December 30th is now lolloping ever closer, like a zombie antelope, wanting to ironically hunt you down, disembowel you and hang your severed head on its living room wall.
How's the competition going?!
For us at Bloody Cuts towers it's been awesome, seeing the creation and results of entries from all over the globe. We've now received entries from as far afield as Austria, Canada, Sweden, Paraguay, Singapore and someplace called 'London'… and we expect to receive a LOT more.
Check out this small selection of awesome stills, behind the scenes shots and posters from some of the filmmakers busy making their mini-masterpieces across the globe…
Watching You  – Sent in by Ryan Thompson
Play Time
Sent it by Lee Robinson
Sent in by Red Hand Studios
Sent in by Neil Stevens, Gary Rogers & Adam Millard
Sent in by Adam Milicevic
Sent in by Seraph Films
Sent in by UA Productions
Sent in by Alexandros Mattei
Sent in by Jayme Sandman
Sent in by Richard Northwood
We see there are no zombie antelope films yet though…
Who's there? A zombie antelope! Mmm… maybe not.
Less than 20 days to go.
Get filming
Get editing
Get grading
Get scoring
Get a zombie antelope
Get ready
 Less than 20 days to go.
 We can't wait to see what horrors you create…
Tick Tock. Tick Tock. Time flies when you're having fun…
…and time flies even faster when you're making a film!
The clock is ticking down on our Who's There Film Challenge for 2013, with the submission date of December 30th creeping ever closer, like a slovenly but terrifying serial killer, slowly stalking its prey.
Have you entered yet? Are you planning to? Are you in post production? Pre production? Mid-shoot?!
Whatever stage you're at, we hope you're enjoying the challenge!
So far we've had an eclectic selection of wild and wonderful entries from all over the globe.
Entries so-far have included submissions from Mexico, Poland, Ireland, Germany, Italy, California, New Jersey, London, Manchester, Blackpool and more!
Want to see them? Of course you do!
Although we wouldn't dare post links to specific shorts – for fear of favouritism – if you jump on YouTube and type in "Whos There Film Challenge" you should be able to discover some haunting, crazy, scary and quality little shorts already submitted (or soon to be…).
Want to show us what you're up to?! We'd love to know what horrors you're all creating – the anticipation is killing us. Literally. Stop it. It tickles.
So slide your stories, photos and clips over to info@bchorrorchallenge.com as we'd love to share the news on Twitter, Facebook and our specially designed set of Christmas Ouija Boards. Satan Claus anyone?
Go on… tease us… just like Neil Stevens did earlier today on facebook. What does this do I wonder?
Still considering entering?! Don't know if you can be bothered?
Why not?! What's to consider?! Look at the prizes! The judges! The prestige!
Whatever you're doing, the clock is ticking.
Tick tock. Tick tock.
You have 25 days.
 Grab your scripts.
 Hunt down that cast.
 Pick up those cameras.
 Create something terrifying.
He heheheh haaa heehehe hhe ehheeeeee….. Mr Stitches here…
Here's a few images sent in to BC towers that were paper clipped to the back of the most delicate of threats.  These bold filmmakers aren't afraid to show there grizzly bits and intent to enter the 'Bloody Cuts: Who's There! Horror Short Film Challenge 2013′.
Check these out, and don't forget to send in your own threats of intent and help us shout from the rooftops about 'Who's There'… We'd love to see who's doing what, how it's going and what to expect from the hundreds of talented filmmakers busy making something truly scary.
Sent in by Anna Katrine
Sent in by Jacob Leger
Filmmakers!
Are you creating something terrifying for our "Who's There Film Challenge 2013?"
Yes?!
Then tell us about it!
We'd love to see who's doing what, how it's going and what to expect from the hundreds of talented filmmakers busy making something truly scary.
Drop us a Tweet, slap us a Facebook message or even e-mail us on info@bchorrorchallenge.com and let us know what's happening! We'd love to share the madness with our followers / crazy-stalkers.
Here's what a couple of folks have posted so far:
From Red Hand Studios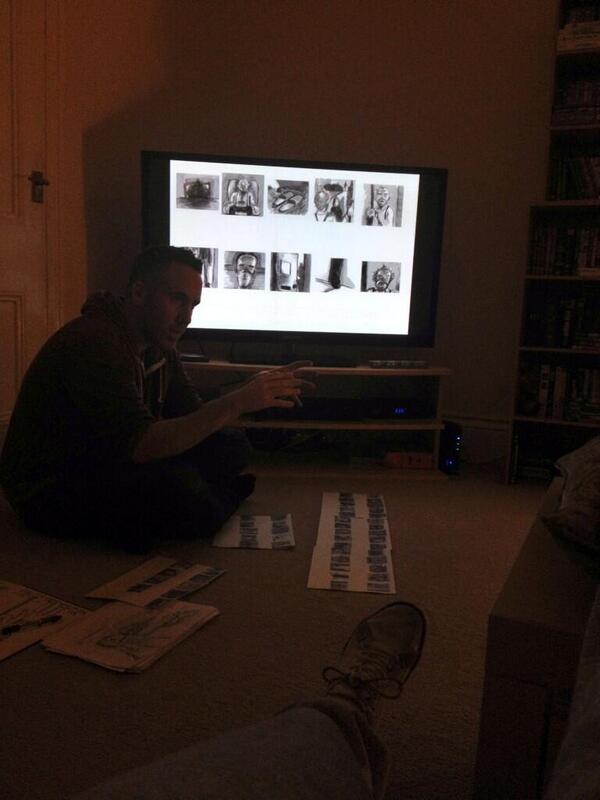 From Stephen Robertson
From Magic Works Media
From Craig James Moncur's team
Think you can top that? Then show us your innards and we'll splatter them all over the place. Metaphorically of course. Don't post us your lower intestine. We already have enough of those.
Show. Tell. Terrify.
We've already had a few entries – check 'em out of YouTube – so we can't wait to see what else you brilliant and disturbed people create!
Grab your scripts
Hunt down that cast
Pick up those cameras
Create something terrifying
Bloody Cuts have launched a worldwide short film competition at www.bchorrorchallenge.com for horror filmmakers and fans. The challenge? Create a terrifying 3 minute short horror film based on the theme of "Who's There?"
So who's there? Bloody Cuts!
Bloody Cuts are a UK-based production company that have been busy creating an online anthology of short horror films. Their shorts have played all over the world at festivals including Raindance, Texas Frightmare, LA Screamfest and Toronto After Dark, and their collected short horror films have received over 750,000 views online so far.
Having received so much support from the industry and horror fans worldwide, they thought it was time to give a 'little' something back. Producer Ben Franklin says "Bloody Cuts was originally created following an entry we'd made ourselves into a similar competition a few years back, so we hope to inspire other filmmakers to follow a similar path, and reward them in doing so too."
So who's there? Prizes!
Dozens of sponsors from all over the film industry are giving away well over $13,000 worth of equipment, software, merchandise and more as exclusive prizes for the competition. There are also individual awards and prizes for directing, writing, grading and a variety of other technical skills. Combined with a first prize valued at over $8,500 it means "Who's There?" has one of the biggest prize pots ever committed to a short film competition.
So who's there? Judges!
Boasting a panel where the word 'expert' is genuinely an understatement, the competition judges are "Gremlins" director Joe Dante, indie-horror stars the Soska Sisters, Hollywood producer Gale Anne Hurd, horror writer / director Marcus Dunstan, horror writer Patrick Melton, award-winning special effects maestro Neill Gorton, "Film School Rejects" managing editor Scott Beggs, world-class cinematographer Sam McCurdy, "Film State" and "Film Riot" host Ryan Connolly and "Daywalt Horror" creator and Best Selling Author Drew Daywalt!
Bloody Cuts producer Anthony Melton says "We're exceedingly thankful to all of our judges and sponsors that have jumped onboard to support independent short filmmaking. And we wish all entrants the very best of luck… Or should I say break some legs…."
So who's there? Filmmakers!
Thousands of them. Skilled, talented and ready to take the challenge. People like you. Bloody Cuts are looking for filmmakers all over the globe, to create terrifying 3 minute horror films based on the theme "Who's There?", submitting them by December 30th 2013 for a raft of prizes and worldwide industry recognition. Jonny Franklin, Bloody Cuts DP has these final words to say: "We're very excited to see what talent is out there, and what nightmares they have in store for us!"
So, December 30th? That's less than two months away… Grab your scripts. Hunt down that cast. Pick up those cameras. Create something terrifying.
So who's there? The Competition!
To find out precisely who's there, check out the full competition details at www.bchorrorchallenge.com and watch the introductory video featuring producers Ben Franklin, Anthony Melton and Jonathan Franklin.
So who's there? An Exclusive Short…
Bloody Cuts have also created their own short especially for the launch of the competition. Sticking to the competition rules, "Dare" is a haunted house POV horror short that sets the bar for other filmmakers to aim at… and clamber over, kicking and screaming. Check out "Dare" on the competition website: www.bchorrorchallenge.com
 So who's there? Sponsors!
A competition is nothing without its prizes and Bloody Cuts are proud to announce their sponsors are:
Millennium FX, Red Giant, EditorsKeys.com, Celtx, MixingLight.com, TaoOfColor, Blackmagic, Kessler, Rode Mics, Raindance, Glidecam, Red Rock Micro, Flanders Scientific, American Cinematographer, Scream Magazine, Atomos, Boris FX, Fright Rags, Film School Rejects, Rampant Design Tools, Ripple Training, Grindstore, Onsight, Take 2, Pixipixel, Carey Dodd Associates and Fetch.

You can also stay up-to-date on all things Bloody Cuts via the official Twitter: @bloodycutsfilms and Facebook Page: www.facebook.com/bloodycuts
Hashtags to use are: #whosthere and #bloodycuts
Knock, knock…
Happy Halloween Folks, all of us here at Bloody Cuts Films wish you the very gruesomest of seasons greetings.
As a special 'treat' we'll be launching our first ever 'Worldwide Film Challenge" tonight at 6pm. So please check back here tonight for the details.
Part of this competition contains a new 3 minute short from Bloody Cuts called "Dare"…
Info will be splattered all over the internet later on…
Go on… we "DARE" you to stop by at 6PM GMT TONIGHT….
MWUAHA HAH AHAHA HAHA HA HA HA
Halloween is fast approaching, but before it pounces at you from the bushes, I thought I'd preemptively slash you up with some more excellent Bloody Cuts news.
Shortly after Don't Move played at the prestigious Texas Frightmare Convention (TFC) this year, we were contacted by the organisers of the Housecore™ Horror Film Festival who made the most excellent offer to screen Don't Move at yet another prestigious Texan horror event.
Corey Mitchel, One of the head honcho's over at HHFF  had seen Don't Move at the TFC and thought it'd be a good match for the event. So thankfully he, with the blessing of his cohort Phil Anselmo (Phil Anselmo of 'Pantera' and 'Down' fame), dropped us an email to ask if we'd be interested… I went off into a dark room to think about it and engage in an epic internal struggle for all of about… 3.1787 milliseconds… and after finally finding the light switch and escaping the cupboard, I rushed back to my computer to email Corey back.
"BY THE LOVE OF SATAN'S TOES, YES. we'd be honored for you to screen Don't Move at your awesome event."
Whilst everyone here at Bloody Cuts are always stoked to have any of our films played to a live audience, this was a particularly high point for me as the Housecore™ Horror Film Festival brings together two of my favorite things and mashes them up into an awesomely gruesome weekend of entertainment and audio/visual debauchery. (I've made that sound like a PC WORLD AGM on Smack… It's so much better than that description, so please read on).
The first of those two things is of course "THE HORROR GENRE", and the second one is a particular breed of music… "METAL "… Grrrrr….
…believe it or not, I'm a huge fan of the style (Even if a rather charming lady at the Colchester film festival did say I looked like a kids TV presenter last weekend).
Anyway, enough about me… What is the Housecore™ Horror Film Festival:
"HHFF will proudly showcase the new and the old, the bloody and the quiet, the creepy and the funny. Horror films of all shapes, formats, and budgets. It doesn't matter how much was spent on it, just that it is creative, imaginative, and scary as fuck.

Add to that three nights of the most intense, heaviest music on the planet brought to you by The Kid himself, Philip H. Anselmo. Expect to hear from Philip and many of his world-famous friends.

Finally, HHFF will present a lifestyle experience. From a haunted corridor co-designed by Anselmo, one of the founders of the internationally famous House of Shock, to dozens of celebrity authors, to special guest appearances by acclaimed horror filmmakers and stars, to a Gorelesque routine, to zombie make-overs, and so much more."
This years festival is absolutely packed with corkers, containing 125 feature films, documentaries, short films, mid-length films, music videos, trailers, and more!! It's going to absolutely rock the *uck out…
One of the classic horror highlights is a showing of 'Suspiria' with a LIVE score by 'GOBLIN'… Immense.
The schedule landed with me a few days ago… and as if just playing somewhere at the HCFF want enough October Joy check out which "little film" we're playing along side…
DEMONS… MY GOD DEMONS… That's insanely cool… Lamberto Bava's 80′s classic is bonkers fun… If you haven't seen it and are not going to be at HHFF, what's wrong with you..? get it on this Halloween… you'll be appalled by the gore, entertained by the daring motorcycle stunts and evilly energised by the top notch sound track (featuring artists such as Saxon, Rick Springfield and Go West…).
If you're in or around AUSTIN, TEXAS this weekend then fly on over to the booking site, pick up some tickets and fly on down to what promises to be a fantastic weekend of flesh chomping horror and ear drum melting metal.
Find all of the dastardly details of the Housecore™ Horror Film Festival here and find the full breakdown of screenings, shows and events here.
Finally, huge thanks to Corey Mitchel and Phil Anselmo…
Hey Folks,
Apologies for the significant radio silence of late and being a little quiet on the blogging front too.
Firstly our radio is broken, so no noises there, and secondly Bloody Cuts have been beavering away at the badgers, who've been badgering away at the AWESOME competition that we'll be launching on Halloween. Keep you eyes, ears and faces peeled for that one, it's gonna be hot.
Talking of peeling faces:
Don't Move was lucky enough to be selected for the Toronto After Dark Film Festival (TADFF) this year, and I'd be lying if I didn't admit that Bloody Cuts and I were a little bit over the moon. so much so that we sacrificed at least sixty seven rubber goats in celebration.
Talking of celebration… I was contacted by Fernando Fernandez from FERNTV a few days ago regarding our successful selection at TADFF and he was kind enough to ask me to do an interview. So I did, and he's just posted it up on his website FERNTV – A Website for celebrating the arts and people who are making a difference (Errr… did he get the right person?)
Here's the interview with @FERNTV and me about @BloodyCutsFilms and how you're only as good as your crew (The people who are definitely making a huge difference in my life)… http://www.ferntv.ca/FERN_TV/DontMove.html
Right I'm off to go and prepare the next batch of rubber goats… as there's more awesome news right round the corner…
Something wicked is coming…. Something wicked-awesome!
We're proud to announce that we're launching our first ever Short Film Competition, hoping to unearth something truly terrifying from the mad darkness where horror filmmakers lurk.
All will be revealed on Halloween – October 31st 2013 – at 6pm (GMT), when the competition officially opens to the world.
We're offering what we believe to be one of the biggest offerings ever for a filmmaking challenge, with over $10,000 of prizes, and the chance for entrants to have their work watched by some genuinely phenomenal – and iconic – industry experts.
To celebrate the launch of our first major competition, we'll will also be unleashing a special Halloween surprise into the world at the same time – a new 3 minute horror short entitled "Dare". Trick or treat? We'll let you decide.
Love filmmaking? Love horror?! Then mark down October 31st as a day of fear, terror, monsters and AWESOME.
October 31st 2013. It's the beginning of something truly wicked…
In celebration of Bloody Cuts – Episode 5: Suckablood hitting 100ks views on You Tube,  Jake Cuddihy (Co-Directed Ep5 with Ben Tillett) has illustrated this beautiful Suckablood Poster to 'say thanks for watching'. Everyone here at Bloody Cuts extends our gratitude for all of the humbling love and support that we've received over the last 2 years along this crazy, crazy journey of horrifying goodness.
Posters and t-shirts coming to the store soon.
We'll keep making 'em, if you keep watching 'em.
'Believe in Horror'