Tick Tock. Tick Tock. Time flies when you're having fun…
…and time flies even faster when you're making a film!
The clock is ticking down on our Who's There Film Challenge for 2013, with the submission date of December 30th creeping ever closer, like a slovenly but terrifying serial killer, slowly stalking its prey.
Have you entered yet? Are you planning to? Are you in post production? Pre production? Mid-shoot?!
Whatever stage you're at, we hope you're enjoying the challenge!
So far we've had an eclectic selection of wild and wonderful entries from all over the globe.
Entries so-far have included submissions from Mexico, Poland, Ireland, Germany, Italy, California, New Jersey, London, Manchester, Blackpool and more!
Want to see them? Of course you do!
Although we wouldn't dare post links to specific shorts – for fear of favouritism – if you jump on YouTube and type in "Whos There Film Challenge" you should be able to discover some haunting, crazy, scary and quality little shorts already submitted (or soon to be…).
Want to show us what you're up to?! We'd love to know what horrors you're all creating – the anticipation is killing us. Literally. Stop it. It tickles.
So slide your stories, photos and clips over to info@bchorrorchallenge.com as we'd love to share the news on Twitter, Facebook and our specially designed set of Christmas Ouija Boards. Satan Claus anyone?
Go on… tease us… just like Neil Stevens did earlier today on facebook. What does this do I wonder?
Still considering entering?! Don't know if you can be bothered?
Why not?! What's to consider?! Look at the prizes! The judges! The prestige!
Whatever you're doing, the clock is ticking.
Tick tock. Tick tock.
You have 25 days.
 Grab your scripts.
 Hunt down that cast.
 Pick up those cameras.
 Create something terrifying.
Filmmakers!
Are you creating something terrifying for our "Who's There Film Challenge 2013?"
Yes?!
Then tell us about it!
We'd love to see who's doing what, how it's going and what to expect from the hundreds of talented filmmakers busy making something truly scary.
Drop us a Tweet, slap us a Facebook message or even e-mail us on info@bchorrorchallenge.com and let us know what's happening! We'd love to share the madness with our followers / crazy-stalkers.
Here's what a couple of folks have posted so far:
From Red Hand Studios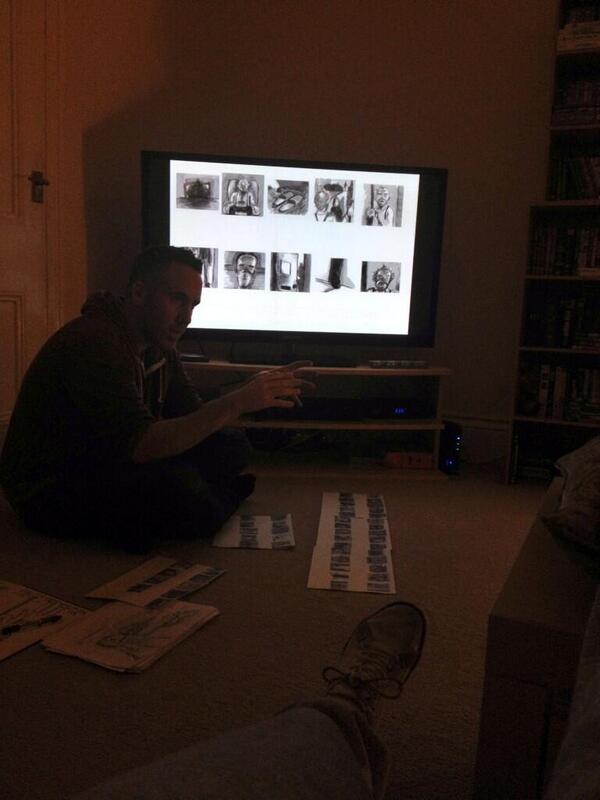 From Stephen Robertson
From Magic Works Media
From Craig James Moncur's team
Think you can top that? Then show us your innards and we'll splatter them all over the place. Metaphorically of course. Don't post us your lower intestine. We already have enough of those.
Show. Tell. Terrify.
We've already had a few entries – check 'em out of YouTube – so we can't wait to see what else you brilliant and disturbed people create!
Grab your scripts
Hunt down that cast
Pick up those cameras
Create something terrifying
Open your wallets, grab your pocket money, sell your kidneys and come with us to a magical new place. Please leave your machetes, werewolves and knives outside and don't eat the staff…
Bloody Cuts have teamed up with one of the UK's most successful rock, horror, alt-art merchandising outfits; GRINDSTORE, to present a whole coffin of special Bloody Cuts treats.
Thanks to the massively awesome folks at Grindstore, you can now buy official and exclusive Bloody Cuts clobber through there terrifyingly tremendous website:
Check it out HERE http://www.grindstore.com/brands/bloody-cuts/
So what's new? LOADS! But the main three things you'll probably care about are:
The new platform, hosted through Grindstore – sexier, sleeker, superber.
The cheaper products – with posters under four quid!
The bigger range – with new products & tweaked designs
 So what's the same?
All the thrills, all the kills and all the spills.
All of our existing Art Work (mostly designed by the infinitely talented Marc Schoenbach), plus a soon-to-be-expanded range of new digital murals.
All profits go back into the series.
Yes indeedy – we've now added a range of  awesome collectible mugs to our collection of T-shirts and posters, along with actual framed artwork (for only £9.99, which is insanely cheap) and wicked-cool hoodies (which are perfect for the warmest summer in decades…).
Grindstore is an awesome place packed with merchandise for bands including Green Day, Iron Maiden, Slipknot and Overclone. They sell boots, jewellery, belts, badges, clothes, stickers and much much more…
… including a collection of Bloody Cuts' posters, T-shirts and mugs. The perfect place to shop for Grandma. If she's really f**king cool.
Now, we have to send a humungous thank you to the awesome folks at Noodle Shirt, who've worked with us selling T-shirts for the past couple of years. We still love 'em, so head there for a huge collection of awesome designs – http://www.noodleshirt.com/
Right. That's it. Whopping great advert over.
Now get shopping… http://www.grindstore.com/brands/bloody-cuts/
Zooka-whatnow?!
Zookastar is THE movie-culture festival for hardcore movie-lovers, or at least that's what their eye-catching website will tell you.
Okay… but Zooka-whatnow?
Ignore the name! This is a surprisingly unique event, so listen up.
Whereas there are many autograph events, film festivals, movie museums, memorabilia exhibitions and Cosplay weekends in Britain every year, it appears the mad brains behind Zookastar thought "sod it, let's combine EVERYTHING into one massive four day event!"
Yep, that's right, Zookastar is a huge conventiony-filmy-eventy thing being held at Battersea Power Station from October 31st to November 3rd 2013.
They will be showing cult films, hosting autograph signings, having Cosplay events, delivering workshops on everything from green-screening and costume to prosthetics and stunt masterclasses and – most importantly – showcasing the flippin' awesome work of British horror filmmakers "Bloody Cuts".
BloodyCutsa-whatnow?!
Shut up! You know who we are! You're on our website!
Yep, Bloody Cuts have the wild pleasure of screening a selection of our shorts in one of Zookastar's 7 zones (probably not the Bollywood zone, we're guessing) and they will be showing the likes of 'Suckablood', 'Dead Man's Lake' and 'Don't Move' to horror-loving punters in hour-long screenings across the entire four day experience.
Check out Zookastar's news piece about us HERE
Oh yeah, and Asia Argento will be there. Which is all levels of awesome. Hope she likes our work. Maybe her dad can direct episode 9?
So, I know most of you were wondering what you were doing on Halloween and the following 3 days. Well, Bloody Cuts and the insanely-named Zookastar have sorted that out for you!
Check out the website filled with exciting possibilities HERE
Films, memorabilia, Cosplay, workshops, costumes, props, events, toys, robots and Bloody Cuts… all under one ex-powerstation's roof.
See you there?
We've done Kickstarter. We've done Indiegogo. We've done Stephen Fry (okay, that was badly phrased). We've done begging family members.
Now Bloody Cuts is going the way of the Bay.
eBay, that is.
Not Michael Bay.
No matter what I say, Ben won't agree to Episode 9 being a horrifying version of a Transformers film. Imagine if your headphones turned out to be tiny little transformers, which transformed into tiny drills and drilled into your -
[Enough! Dammit, Scullion, episode 9 won't be "Attack of the Metal Alien Beast Monsters from Space"! - Editor-in-Chief Ben]
Sorry Dad.
So, Bloody Cuts are heading to eBay to source additional funding for our next foray into the wonderful world of horror shorts.
Instead of Kickstartering and promising goodies for cash, we'll be placing exclusive Bloody Cuts items of eBay for you – the awesome general public – to bid for.
Item number one has already landed on bay of E, so you might have seen us yelling about it already.
What is it?
Remember Suckablood? Yeah? No? Whatever! Watch it IMMEDIATELY:
Finished? Cool.
Well, we're giving away an exclusive A2 poster of the film, designed by  Marc Schoenbach and signed by…
… pretty much everyone involved in it. There are indecipherable squiggles from Suckablood directors / writers Ben Tillett & Jake Cuddihy, Bloody Cuts creator Ben Franklin, uber-producer Anthony Melton, some of the brilliant crew and even the Suckablood himself – Robin Berry!
You'll even get your name burned into the Bloody Cuts contributors wall on the website. FOREVER.
This is an exclusive gift that was signed at our Bloody Cuts Christmas party. I remember it well. The signing. Not the party. I was on 'security duty', making sure no one broke into the towers whilst they partied in the crypt. They don't believe me, but I stopped a horde of demonic badgers from entering. Single-handedly. How? I blew them up with my mind.
Although that might've been a dream.
Anyway, eBay.
Want an exclusive signed Suckablood poster? Of course you do!
Head over to eBay and put your bid in. Link is HERE
This beautiful image – defaced with signatures – will make you the envy of everyone everywhere and will be perfect as a centrepiece for your lounge.
Horrible damp on your dorm wall? This will be perfect to cover it when mother comes over to inspect your new home.
Are you a prisoner? Then use it to hide the tunnel you're digging in your wall. Freedom is just one eBay bid away!
Watch this space / Blog for details of other exclusive eBay'ed items from the Bloody Cuts vaults.
Bid and help us raise more funds for Episode 9!
Which will be about these extraterrestrial metallic (but sentient!) creatures who -
[and the blog ends here. That's enough of this silliness for one day! - Editor-in-Chief Ben]
Who doesn't like numbers?
You like numbers. I like numbers. This guy likes numbers:
A LOT.
When he's not busy feeding off the lifeblood of our children, he's teaching them how exciting and informative numbers can be.
And you know what, the exsanguinating old bastard is right. Numbers ROCK.
As it's been 43 days since "Don't Move" exploded into the world we thought it was the perfect time to unleash upon you – the unsuspecting (but massively sexy) public – a whole host of amazing numbers associated with "Don't Move".
What? Numbers?!
Look, it's the Bank Holiday weekend (in the UK, anyway) so even we're allowed to be a bit lazy, okay?
By 'lazy' I of course mean 'working on a dozen top secret projects that we can't tell you about through pain of death. Or at least a little dismemberment. And maybe some fatal tickling'.
I will, however, tell you one secret.
Gather round. Listen closely…
Episode 9 is going to be a short about a mutant ninja Dinosaur waking up in post-apocalyptic Manchester and having to fight overcloned demonic football fans, who have been holding a thousand year war over something they call "fool-balls". I wrote it last night and Ben Franklin said – and I quote – "that sounds like total bollocks".
Which is a compliment, right? Like "Totes amazeballs"?
Right?
Apart from that I cannot tell you anything about any forthcoming Bloody Cuts shorts, features, wedding videos, commercials, music videos or Big Brother audition tapes.
These secrets are locked high in the Bloody Cuts towers, jammed in between the jar of eyeballs and that crate full of unspeakable pigeons.
So, instead of secrets, you shall receive facts today. Facts so factual they'd blow the face off David Attenborough if he wasn't immortal.
Prepare yourself wandering citizen, for below is the list to end all lists.
A list of numbers about "Don't Move":
1 Must Live
1st place in the Popcorn Horror 'Blood Games' competition held at Texas Frightmare
2 People played the character of Paul (our heart-removed Oujia player). Physically it's Martin Skipper and vocally he's played by Ben Tillett.
3 Days on location
3 shots into the film until the Demon does appears. Can you spot him?
4 hours in makeup for Emma Franklin, our skinned lady
5 Must Die
5 – the largest number of deaths in a Bloody Cuts short to date (not counting the 30 zombies in Mother Died! But they were already dead…)
6 terabytes of hard drive space used to store the film.
6 pints – the number of beers drank between director Anthony Melton and special FX producer Kate Walshe before deciding on that "skin rip" death…
8 episodes in Bloody Cuts current series. "Don't Move" being number 8.
9 litres of fake blood bought (but not all used!)
14 minutes long… "Don't Move's" length, according to IMDB
19 minutes long – our forthcoming "Behind the Scenes" film
22.5 hours – the total time actor Ian Whyte spent inside the Demon costume over 2 days
34 lighting variations Bloody Cuts' DoP Jonny Franklin produced to achieve the right 'look' for the film
65 visual effects shots, distributed between 7 people and completed in under 21 days (Woah! Number explosion!)
205 days between "Don't Move" writer David Scullion introducing himself to Ben Franklin and the Edinburgh premiere of "Don't Move"
405 miles (approx) travelled by team Bloody Cuts from London to Edinburgh, for the "Don't Move" premiere at the Bootleg Film Festival. Per person. One way.
3,125 English pounds raised in our Kickstarter campaign
26, 727 views on Youtube (so far)
45,200 views on Vimeo (so far)
Wow.
Totes amazebollocks right?
Now if that didn't scream BANK HOLIDAY! F*CK YEAH! then I don't know what does.
Honestly. I don't.
That's the best thing that's happened to me all week.
If the numbers have whetted your appetite for horror, then check out "Don't Move" again and bolster those 'views':
Next time our Blog might be filled with something remotely informative or even interesting (N.B. not a guarantee).
Don't worry, though, as this isn't the last "Fun With Numbers" post Bloody Cuts will be doing. You can count on that.
Geddit?
'Count' on it?
Like numbers…
Hello?
Ian Whyte might not be a familiar name and – until recently – he wasn't even a familiar face, but Ian has acted in a number of high profile projects and pivotal roles in both television and film.
Remember the gigantic Engineer in Prometheus? That's him.
The White Walker in the very first episode of Game of Thrones? Ian.
The flame-sworded Reaper in Solomon Kane? Ian.
Think what you will of the much-maligned Alien vs Predator 'franchise', we can all at least agree that the Predator is an ice-cold badass. And yep, Ian played him too. Twice.
Often the 'man in the suit' is the unsung hero in the world of film and TV, but he's begun shedding the mask and has recently appeared in Game of Thrones as Ser Gregor Clegane, proving he's one of the most diverse actors working in the industry.
He is also incredibly tall. We had to say it here. Seriously. He's 7 foot 1 inch! Yet rather than being an imposing scary bastard he's – seriously – one of the nicest blokes you could ever meet. Ever. Patient, kind, funny, a total gentleman and a dedicated family man.
As versatile as they come, Ian enjoyed a period as a professional basketball player with a 9 year international career, clocking up 80 caps for England, before hanging up his oversized shirts and moving into a very different career.
Luckily b-ball's loss was our gain as Ian jumped straight into acting and – after a number of years doing some particularly spectacular work – he very kindly accepted a role in Bloody Cuts' "Don't Move", bringing his immense talent to our eighth episode as the "Demon".
And he was fantastic.
Fully masked, clawed, and forced to wear a huge black rag that accidentally acted like a giant banana-skin (sorry Ian!), he took the role of the Demon in his (immense) stride, providing an incredibly imposing monster that dominated every moment he was on screen.
We had the pleasure of interviewing Ian about his work on "Don't Move" and beyond, so sit back, relax, and read what our unmasked Demon has to say…
BLOODY CUTS: Firstly, lets get a little bit of background on you – how did you get started in acting?
IAN WHYTE: Well, you know when actors say, "I was in the right place at the right time!" Or "The phone just rang one day!" Well that's what happened! The truth is I didn't really know I wanted to be an actor until I was given an opportunity to be one and I grabbed hold of that opportunity and didn't let go! That opportunity was Alien Vs. Predator back in 2003 and it was a baptism of fire quite literally!
BC: It's more than likely that a large percentage of our readers will have seen you in films or TV on more than one occasion, and probably not even realised it! Can you tell us some of the roles that we might have seen you in?
IW: Yes, I am the most unrecognisable actor nobody's ever heard of! I was the Predator in Alien Vs. Predator and the sequel AVP: Requiem. I have been in two Harry Potter films doubling for Francis De La Tour… (I had lovely frocks!) I played the Devil's Reaper in a film called Solomon Kane which I always say is the best fantasy film nobody's ever seen! I was Sheikh Sulieman in Clash of the Titans and I was the Engineer in Ridley Scott's Prometheus… amongst others!
BC: And out of those, who has been your favourite character to play and why?
IW: Well, they all mean a great deal to me for different reasons. The Predator is one of the most iconic characters of Sci-Fi ever conceived and it was my first film. Being in a Harry Potter film surrounded by denizens of film and theatre was just a magnificent experience and a great way to learn on the job! The Engineer was a figment of Ridley Scott's imagination for over 30 years, to finally bring that to life was an absolute honour. But if you put a gun to my head and say: "Choose ONE" I would have to say the Wolf in AVP: Requiem. The film was cooly received that must be said, but I put so much work into preparing for that role and had so much more of opportunity to explore its character… I'm still quite proud of it!
BC: You're currently playing Gregor Clegane (and the White Walker!) in Game of Thrones. What's it been like to be in such a highly regarded and popular TV show?
IW: I'm actually playing "The Giant" in season 3 (episode 1) and I do hope we get to see more of him, he really was an awesome character to play and ironically, the first time I've actually played a PROPER giant! George R.R. Martin has created such a vast and wonderfully diverse stage for actors, so it's an absolute privilege to be a part of something that is proving to be so popular and is so lovingly adapted from its source.
BC: Onto Bloody Cuts, and your starring role in "Don't Move". What first attracted you to the project?
IW: Quite simply I love playing this sort of character. As an actor you can watch people getting on the bus, or having a coffee, or walking down the street, but you can't watch a demon eviscerating a helpless victim. That you have to make up, so I love the creative process involved in just inventing this sort of reality.
BC: Your performance in "Don't Move" is so well played that it's easy to forget there's a human under all of that monster makeup! How long did it take you to work out the movement and physical performance of the character?
IW: That's the trick isn't it; convincing the audience that you're not an actor! When a character is so well defined by it's look, you never really know how it's going to play until you get in full costume for the first time. I had a basic set of criteria that I wanted to use based on other characters that I have played, but it really comes down to the moment you are there doing it with the other actors, on location… being inventive.
BC: What's it like wearing prosthetic makeup, it must be quite an endurance test?
IW: Well, yes, it is, but it's something that you get used to and really, the only thing you should be concerned about is delivering a performance for the director. After all, it's not the makeup or the costume that's telling me how to act.
BC: What's your favourite memory from the shoot itself?
IW: I actually made a lot of new friends on the shoot and reconnected with a few old ones which was great.
BC: Cliff Wallace is a bit of a legend in makeup, what was it like to work with him and what did you think when you first saw his design of the Demon?
IW: Cliff was great! I first saw his design about a week before the shoot, I thought it had a beautiful simplicity… absolutely not the sort of thing you'd want to find lurking in the shadows of your own house!
BC: If there was a "Don't Move 2″ or a "Don't Move" feature – would you be interested in putting on the Demon makeup again?
IW: HELL YEAH!… is there?
BC: No comment! Finally, we know you're a very busy man, so what do you have planned over the coming months and what else might we be seeing you in?
IW: I'm off to parts foreign very soon to begin shooting a studio feature… very exciting stuff!
BC: Good luck with that – we look forward to seeing it!
For more information on Ian Whyte check out his website HERE, have a gander as his impressive filmography HERE and socially appreciate him on Twitter HERE.
And, if you haven't seen it (where've you been?!) check him out in Bloody Cuts episode 8 "Don't Move" below:
'Don't Move' won!
For those who aren't aware, 'Don't Move' was one of three finalists in the Popcorn Horror 'Blood Games' competition held at the Texas Frightmare convention.
Voted in second by the public vote – damn those cheeky public-people! – 'Don't Move' was subsequently screened at the Texas Frightmare convention, alongside first place 'Blood Roulette' and third place 'Twinkle Toes'.
These three game-based horror shorts were watched by a horror-loving crowd in Texas, which included 'Queen of the Cyber-Goths' Gabrielle Faust.
Miss Faust was also the Judge and Jury (and possible executioner) for Popcorn Horror, there to decide which short would be crowned the victor of the Popcorn Horror 'Blood Games' competition.
We waited. We bit our nails. We prayed to a goat-headed deity called Mr Bobbinsack.
And we won.
We freakin' WON!
Gabrielle Faust first broke the news over at the Texas Frightmare Facebook page. Rather than paraphrase her beautiful words, we've cut 'n' pasted them in all their enthusiastic glory below:
"And the winner of the BLOOD GAMES short horror film competition is…. "DON'T MOVE" by BloodCuts!!!
Congratulations to BloodyCuts, as well as all of our finalists! YOU GUYS ROCK!!!!!!
And thank you to Evil Jester Press and Popcorn Horror for all of their hard work organizing and promoting this film contest! Let's do this again next year! Cheers!
Check out "DON'T MOVE" and the other finalist films at http://www.popcornhorror.com/bloodgames"
This was also confirmed on the Popcorn Horror Facebook page:
"We are very pleased to announce that the final winner of our Blood Game's competition is Bloody Cut's Don't Move! Massive congratulations to everyone involved with Bloody Cuts.
Thank you also to everyone who submitted films, promoted the competition and voted, as well as our partners Gabrielle Faust, Evil Jester Press and Texas Frightmare Weekend"
When asked his thoughts on this superbness, 'Don't Move' director Anthony Melton said:
"Wow! I received the news that "Don't Move" had won the Blood Games short film competition earlier today and I've been grinning from ear to ear ever since. I am so pleased for the whole of the Bloody Cuts team as winning this competition is a public recognition of all the hard work and generosity that went into making "Don't Move" a reality."
Anthony continues: "Big thanks to "Popcorn Horror" and "Frightmare" for allowing us the exposure at such a prestigious event and further thanks go to everyone who voted the film into the final 3 of the competition. Last and most definitely not least, huge respect goes to our Kickstarters and Contributors. Your support makes Bloody Cuts possible, we are very happy that you are enjoying the series. BE TERRIFIED."
Fine words from a damn fine man.
A truly spectacular result and an absolute honour.
To celebrate, watch it again:
Second the best!
That's the schoolyard chant we're going to clutch onto after 'Don't Move' came second in the Popcorn Horror Blood Games competition.
Boo hiss etc… I know, I know, but we're okay. Anthony's not come out of his dungeon yet and Ben is still sacrificing goats in an attempt to reverse time, but unfortunately we're not wearing our winning pants today. Or any pants, for that matter.
The first place beat us by a good few votes, which were generated by 'likes' via the book of Faces.
You should check out the winning short HERE
We won't reveal why it's called Blood Roulette, but it's definitely a game Basildon Casino won't be emulating soon…
Naturally we're disappointed 'Don't Move' didn't win the public vote (I blame Simon Cowell), but we can only presume we lost because all of our friends actually hate us….
…or that Blood Roulette is a better film than 'Don't Move'. Let us know your thoughts on that – drop us an e-mail at hello@bloodycuts.co.uk or smack some love / hate over to Twitter @BloodyCutsFilms
So, what does coming second place in Popcorn Horror's awesome competition actually mean? It means something pretty freakin' awesome is what.
'Don't Move' is now officially part of the Texas Frightmare convention this coming weekend.
What's Texas Frightmare?
You don't know? For shame! 50 lashes and a chainsaw up the jacksy. Fair punishment for such horroring ignorance.
It's South-West America's premier horror convention, held annually in Dallas, and delivers a host of films, workshops, talks and photo ops with all your horror favourites.
Seriously, though, it looks absolutely ace and our brutal little short will be mixing with the likes of Ben Wheatley's (fantastic) Sightseers, Neil Jordan's Byzantium, talks from the cast of Pet Cemetery, Lords of Salem & The Frighteners and appearances from people like Tom Savini, Jeffrey Combs, Stuart Gordon, Danny Trejo and the Busey family… in a 'talk' called "Busey vs Busey". I'm not even joking. Jake vs Gary. Expect insanity!
Check out full details HERE
So, will anyone from Bloody Cuts be in attendance at Texas Frightmare?
Do you own a teleporter? No? Then probably not…
Unfortunately BC Towers is located in a small space-rift between Norfolk and London and this tear in the universe doesn't quite reach Texas. We have chainsaws, we're willing to massacre, but unfortunately our lack of Texas spoils everything once more.
Maybe next year?
We're incredibly proud of 'Don't Move' and even prouder to have it shown at such a prestigious horror convention.
Our thanks go out to the 782 Facebook friends who helped generate enough support to get Episode 8 to Texas and also to those who shared, e-mailed and shoved this competition under the noses of friends, family, strangers and deadly enemies. Thank you!
On an even potentially-awesomer note (yes, 'potentially-awesomer' – copyright Scullion 2013) the Popcorn Horror Blood Games showcase will be judged by Gabrielle Faust and she – oh Queen of the cyber Goths – will choose which short out of 'Blood Roulette', 'Don't Move' and 'Twinkle Toes' is crowned king of Blood Games. How cool is that?
Let's hope Gabrielle Faust digs 'Don't Move' as much as we do!
Although if we're crowned runners-up (we do get a crown, right?!) then that's cool too. Because second's the best, right?
Right?
For more news, reviews and updates about 'Don't Move', please check out our Facebook page HERE, which is jam-packed full of exclusive images, links and all manner of bloody goodness!
Oh, and one final thing:
This weekend, if you're in Texas, go to Frightmare.
It looks f*cking amazing.
What a week!
When we unleashed the brutal delights of 'Don't Move' we didn't expect the amazing reaction we have received from all corners of the 'verse (horroverse, not universe – it's slightly smaller, but a lot more fun).
For those that don't know and who may have stumbled upon this Blog post by accident (looking for somewhere selling really bloody cuts of ham?) then 'Don't Move' is the eighth episode in our anthology of horror shorts, released on Monday 15th April.
Haven't seen it yet? Watch it below…
One week later and it's spread across the globe like a really bloody virus… although it's not infectious. Or deadly. But it might make you cry. Or vomit, if you blow chunks at the sight of blood, death or ancient evil.
In the tradition of self-congratulation and a final attempt to prove to you (our awesome audience) that we do – in fact – totally kick ass, we have compiled a little list of our favourite reactions to the release of our short… and a couple of baffling ones.
We will split them into two exciting categories:
1.) Reviews
2.) The vox-popping reactions from Facebook, Twitter, email and carrier pigeon.
Here goes…
 FROM REVIEWS:
FILM SCHOOL REJECTS
"Writer David Scullion and director Anthony Melton achingly squeeze out all the angst that comes along with watching characters unable to move, but there's nothing inert about the plot as supposed friends use some clever tricks to get each other to shuffle off their mortal coil."
Full review HERE
HORROR CULT FILMS
"Don't Move is heart-stoppingly tense and frightening, and I just thank the lord it's only a few minutes long, I don't think my heart could take any more"
They also said the funniest thing we've heard so far about our demonic entity: "Think if Lost's Smoke Monster and Pan's Pale Man had a baby, this would be the result."
Full review HERE
LAPTOP ZOMBIE
"The performances are unanimously excellent, with the talented cast managing to convey the requite sense of imperilment without actually being able to move (no mean feat). They're all good, but top-billed Rachel Bright is a particular standout."
Full review HERE
REEL BLOODY
"The sound effects were really creepy and gross. The makeup was awesome. The story is short and sweet… Although, I wouldn't mind a full length feature film of something like this."
Full review HERE
WE LOVE MOVIES MORE THAN YOU
"Those twisted geniuses over at Bloody Cuts have gone and done it again, the eighth entry in their anthology series has just been released online and consider my socks officially blown off."
Full review HERE
SHORT OF THE WEEK
We were also honoured to be chosen as the short of the week at www.shortoftheweek.com, who said:
"Too often, horror movies are about the chase—the dashing escape from the crazed lunatic with a chainsaw. But, what about a scenario where you can't run at all? Fleeing isn't an option, and for some reason, that makes things creepier. It's just you, your shaking body, and a demon thirsty for blood. As you can imagine, the resulting tension is palpable."
Full review HERE 
VOX-POP QUOTE-ATHON:
Below is a very small sample of the reactions from you, the wonderful people of the world. In no particular order and plucked randomly from the interweb, here is a bunch of really lovely stuff you kind people have uttered at us.
The grammar and spelling hasn't been changed as everything has been shamelessly copy and pasted from Twitter , Facebook & Youbtube, so don't beat us to death with a dictionary.
May include SPOILERS:
Andy Nyman:
"Just watched it. Perfect way to start a Sunday. Really enjoyed it"
Richard Sandling:
"It is Great! It is also really bloody & horrible."
Riccardo Servini:
"Best ep of @BloodyCutsFilms so far!"
Wendy C:
"Started to watch "Don't Move" but too scared … my heart was pounding & eyes watering… will have to watch it in daylight"
Aquiles González:
"Really frightening!!! Don´t Move is pure Evil!!"
Cassandra Bond:
"just simply amazing well done guys #DontMove is superb!!!!"
Mario Sibilia:
Anybody that's serious about horror really needs to check out Dont move by @BloodyCutsFilms. A truly scary work of art. Well done guys
Steven Mitchell:
"love the creature design by @Millennium_FX. Wouldn't look out of place in pans labyrinth"
Mark Kenna:
"Fantastic stuff guys! Thought I'd just a watch the start & I was hooked all the way through."
Doug Tilley:
"Had a chance to really sit down and enjoy @BloodyCutsFilms latest short DON'T MOVE, and it's really quite brilliant."
Brett Gerry:
"@BloodyCutsFilms does it again! Best monster movie since Harryhausen's Medusa"
Chelsey Burdon:
"Fan-fucking-tastic guys! You've really mastered short-horror. Great job!"
Jennifer Boyd:
"You guys rock! That was awesome!"
Hugh Sweeney:
"Magnificent film guys, really liked the concept behind this episode. The 'demon' was superbly done and editing / colouring / camerawork as stunning as always. A masterpiece that'd easily lend itself to a feature film."
Alexander Black:
"Moral of the story: sleeping when scary demons appear may actually save your life…"
And perhaps our most random response, from the director of Hitman, Frontier(s) and The Divide:
Xavier Gens:
funnnnn!!
Yes, fun indeed!
'Don't Move' reached so many people that it even got stolen and put on a torrent site!
Yes, our free film was torrented, so people can watch our film for free… which you can do already… in about ten places…! Nice one pirates. You stole a free sample.
Many many thanks to everyone who has supported 'Don't Move' before, during and after it's production.
Thanks to everyone who jumped on Facebook and Twitter and screamed about it, sharing links, retweeting videos and generally being insanely-kind about our short but evil little horror.
Only one week in and 'Don't Move' has been viewed by over 3,600 people on Youtube. Admittedly 2,782 of those hits are from Anthony, but still… it's a stunning number! Hope everyone loved it!
We've also had the honour of being placed in the final 6 of the Popcorn Horror competition. If you've got a second (and a Facebook account) then please scoot along to this link and vote for 'Don't Move':
http://www.popcornhorror.com/bloodgames/
Right.
That's it.
Back-patting self-love over with.
Now onto Episode 9…